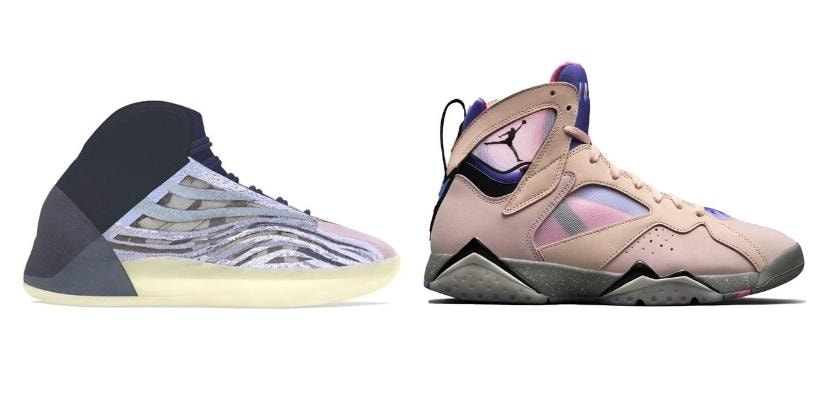 26 Most Popular Sneaker Releases Of April 2022
April's sneaker range mixes old and new with retro models like the adidas Crazy 1 and Reebok Shaqnosis making a comeback.
Jordan Brand continues its rollout of women's exclusives with a handful of AJ1 Low and Mid models alongside the hottest drops of the month – A Ma Maniére AJ2, "Georgetown" AJ1 and UNION LOS ANGELES x AJ2.
Read on for a preview of April's sneaker releases, including Nike Dunks, Air Force 1, and a new colorway of the YEEZY x adidas Quantum.
Nike Air Force 1 Low "Skeleton Purple"
Release date: April 1
Price: $130
Or buy: SNKRS
Nike Dunk Low "Halloween"
Release date: April 1
Price: $110
Or buy: SNKRS
Marimekko x adidas Ultraboost 5.0
Release date: April 1
Price: $200
Or buy: adidas
adidas Crazy 1 "Sunshine"
Release date: April 1
Price: To be determined
Or buy: adidas
Air Jordan 1 High "Georgetown"
Release date: April 2
Price: $200
Or buy: SNKRS
Polaroid x Nike SB Dunk Low
Release date: April 5
Price: $120
Or buy: SNKRS
Air Jordan 1 Low Woman "Marina Blue"
Release date: April 5
Price: $100
Or buy: Nike
Air Jordan 1 Low Woman "Sherpa Fleece"
Release date: April 5
Price: $110
Or buy: Nike
Nike Dunk High Wmns "FLS"
Release date: April 6
Price: $120
Or buy: Nike
Yeezy adidas Quantum "Mono Carbon"
Release date: April 7
Price: $260
Or buy: YEEZY SUPPLY
Reebok Shaqnosis "Great Aristotle"
Release date: April 8
Price: $150
Or buy: Reebok
Off-White™ x Nike Blazer Low "White/Opti Yellow"
Release date: April 8
Price: $140
Or buy: SNKRS
Off-White™ x Nike Blazer Low "Black/Electro Green"
Release date: April 8
Price: $140
Or buy: SNKRS
Reebok Question Mid "Mocha Toe"
Release date: April 8
Price: $160
Or buy: Reebok
Air Jordan 1 Low Women's "Football Grey/Aluminum"
Release date: April 8
Price: $100
Or buy: Nike
Air Jordan 1 Mid Woman "USA"
Release date: April 8
Price: $135
Or buy: Nike
Air Jordan 1 Low Woman "Light Madder Root"
Release date: April 8
Price: $100
Or buy: Nike
UNION LOS ANGELES x Air Jordan 2 "Grey Fog"
Release date: April 8
Price: $225
Or buy: LOS ANGELES UNION
Air Jordan 5 "Jade Horizon"
Release date: April 9
Price: $200
Or buy: SNKRS
Air Jordan 1 Mid Woman "Sanddrift"
Release date: April 12
Price: $135
Or buy: Nike
Air Jordan 1 Zoom CMFT "Anthracite/University Gold"
Release date: April 12
Price: $140
Or buy: SNKRS
Nike Dunk Low "Fossil Pink"
Release date: April 15
Price: $110
Or buy: SNKRS
Air Jordan 7 SE "Sapphire"
Release date: April 16
Price: $210
Or buy: SNKRS
Air Jordan 11 Women's "Pure Purple"
Release date: April 28
Price: $190
Or buy: Nike
My Way x Air Jordan 2
Release date: April 29
Price: To be determined
Or buy: To be determined
Air Jordan 13 "Brave Blue"
Release date: April 30
Price: $200
Or buy: SNKRS