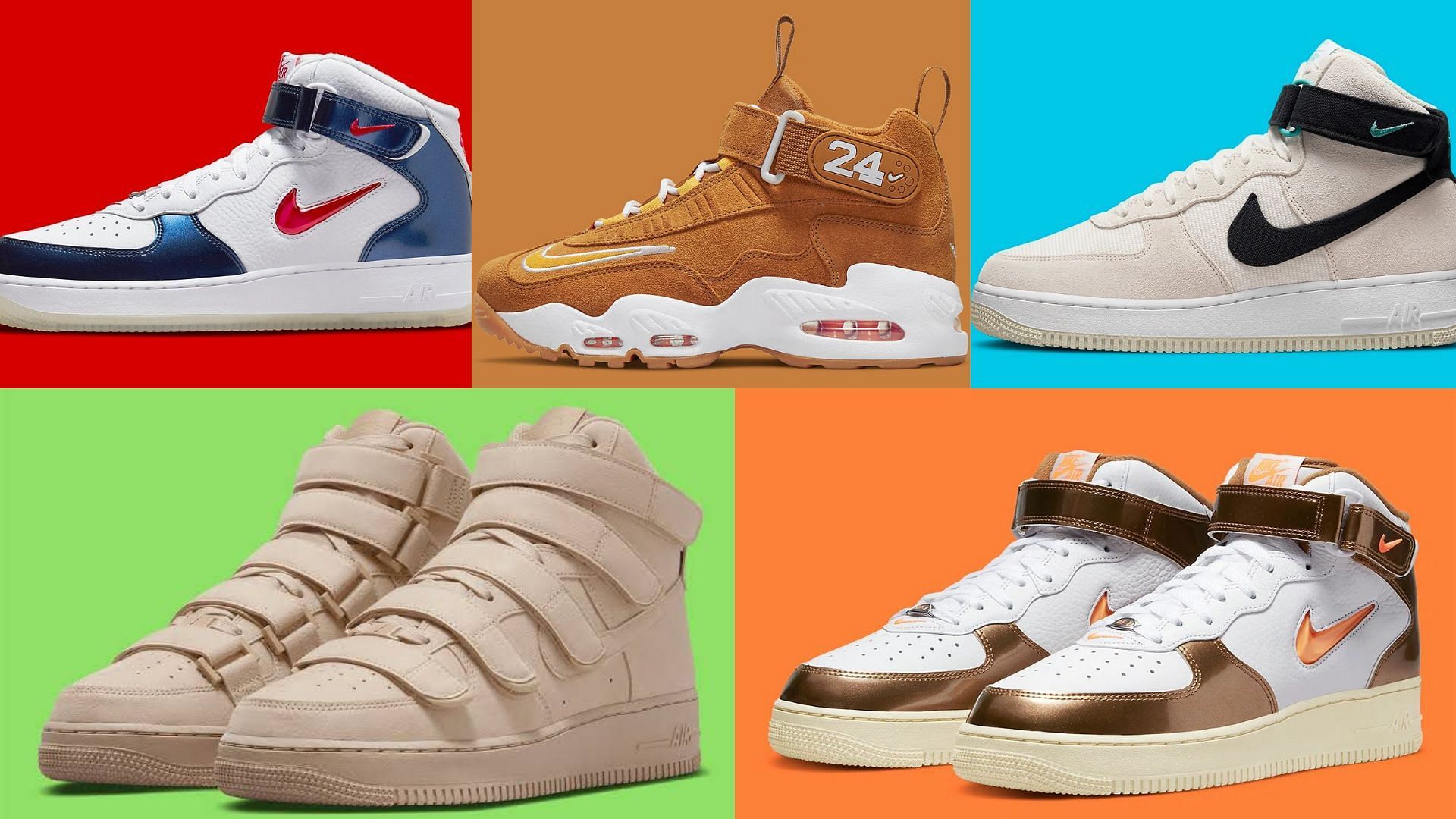 5 Best Nike High Tops To Buy Under $300 In 2022
Nike high tops are always popular with sneakerheads. Dedicated shoe collectors are sure to have their own set of Nike high tops.
Air Force 1 and Air Griffey Max are two iconic models of the brand with a varied range of high-top sneakers. Normally, this is a highly sought after Nike collection that seamlessly blends contemporary fashion and style.
So if you are looking for a decent pair of Nike high tops at a reasonable price, this list is for you. We've put together a list of high-top sneakers that cost less than $300.
---
Five hand-picked Nike tops to buy under $300
1) Air Force 1 Mid "Ale Brown"
The first rising Nike on the list is the recently released Air Force 1 Mid "Ale Brown". Released April 28, 2022, the $140 silhouettes can be easily purchased through Nike's e-commerce stores, SNKRS, Takeout NY, Feature, Bodega, Extra Butter, and Sneaker Politics.
In recent years, Nike has moved away from the Air Force 1 Mids in favor of the Lows. But it seems to be improving this year. The silhouette was launched in collaboration with Stussy or Off-White.
Other than that, several standalone releases like "Ale Brown" and "Independence Day" are appearing more regularly, with pairs adorned with Swoosh jewels.
To create this pair, the autumnal hues with a metallic touch were added to the white background of the leather uppers. These can be found on the toes, heels, and straps, all of which have a bronze color.
To add more detail, the lateral sides are adorned with bolder orange swooshes to complement the branding on the ankle, tongue and clasp.
The rest of the upper is dressed in distressed white leather, while the midsole is given a vintage touch with "Sail". Additionally, the inside label features a humorous graphic featuring two conversing anthropomorphic Swooshes.
---
2) Nike Air Griffey Max 1 "Wheat"
The Nike Air Griffey Max 1 in the "Wheat" colorway may also be your go-to pick for under $300. Dropping on April 27, 2022, these tops are being sold through Nike as well as select physical stores for $170.
Earlier this year, Nike introduced their latest iteration of the Nike Air Griffey Max 1 in a "Wheat" colorway just in time for the winter season. Normally, Nike releases slick colorways of fan-favorite models throughout the fall and winter months.
The shoe is crafted in a full-grain suede upper with white stitching on the Nike badge. The lace strap and ankle detail showcases Griffey's jersey number 24, similar to his contemporaries.
Hues of mustard yellow and white adorn the complete sneaker look. Yellow eyelets and swooshes were added to the uppers, while the white hue accented the laces, chunky outsoles, jersey numbers, and buckles that held the straps.
---
3) Billie Eilish x Nike Air Force 1 Mushroom
Billie Eilish's engagement with Nike is probably one of the most popular of 2022 so far. The dynamic duo worked on the coveted Air Force 1 style and turned it into a "Mushroom" colorway.
The partnership, initially teased in December 2021, finally won over sneakerheads on Monday April 25. The Air Force 1 "Mushroom" is currently available on the Nike SNKRS online store. Each pair sells for $170.
The new take on Bruce Kilgore's 40-year-old design emphasized a unified aesthetic across its upper and sole. The suede construction on top has a semi-washed look that was designed in keeping with the collaboration's wardrobe line.
The top features a light brown tone throughout with five velcro straps. The lace dubrae featured the singer's signature figurine emblem, while the sock liners bore her name.
Billie Eilish's love of understated style continues with these Air Force 1 hi-tops, which use a slightly darker shade of the eponymous "Mushroom" color.
---
4) Nike Air Force 1 Mid QS "Independence Day"
The next budget Nike high top shoe is the Air Force 1 Mid QS. The activewear brand recently released the "Independence Day" colorway of the classic model. Launching on April 28, these $140 pairs are easily accessible via online stores from Nike, SNKRS, Social Status, Takeout NY, and Feature.
Whether you despise or admire the Air Force 1 Mid, it will forever go down in shoe history. Long considered the proverbial middle child of the Air Force 1, the Mid had to go the extra mile to keep up with the more beloved Low and High.
Nonetheless, there are many mid-tops that need to be acknowledged, and few can compare to the Air Force 1 Mid "Independence Day" of 1997.
As part of Nike's 40th anniversary celebration, the iconic sneakers have been reintroduced in 2022.
The brand has pearl leather uppers with white, metallic blue and shiny red, the colors that are a nod to the famous American flag.
The pair's matte yet glossy look, tumbled white leather, a Jewel Swoosh and an opaque outsole are the highlights of these Air Force 1 Mids.
---
5) Nike Air Force 1 High '07 LX
If you're looking for high-top sneakers in neutral tones, these shoes are for you. The Nike Air Force 1 High '07 LX men's shoes, which released worldwide on February 24, can be easily purchased from Nike's e-commerce website for $145.
The Nike Air Force 1 High debuted in various experimental styles ahead of its 40th anniversary. An example is a canvas and suede arrangement dipped in an off-white, turquoise and black combination.
The pair features a sturdy textile material at the base, similar to previous releases dressed in autumnal brown and orange.
Hairy fabric wraps around the forefoot, tongue and heel. Closure strips around the ankle accompany the signature swooshes in their heavy black variations, while these components are hued in off-white.
Additionally, the bright blue hue enhances the premium design of the Air Force 1. The complimentary insignia and strap buckle further influenced the minimalist makeup.
Underfoot, Bruce Kilgore's signature style features a monochromatic midsole with "Bone"-inspired outsoles.
---