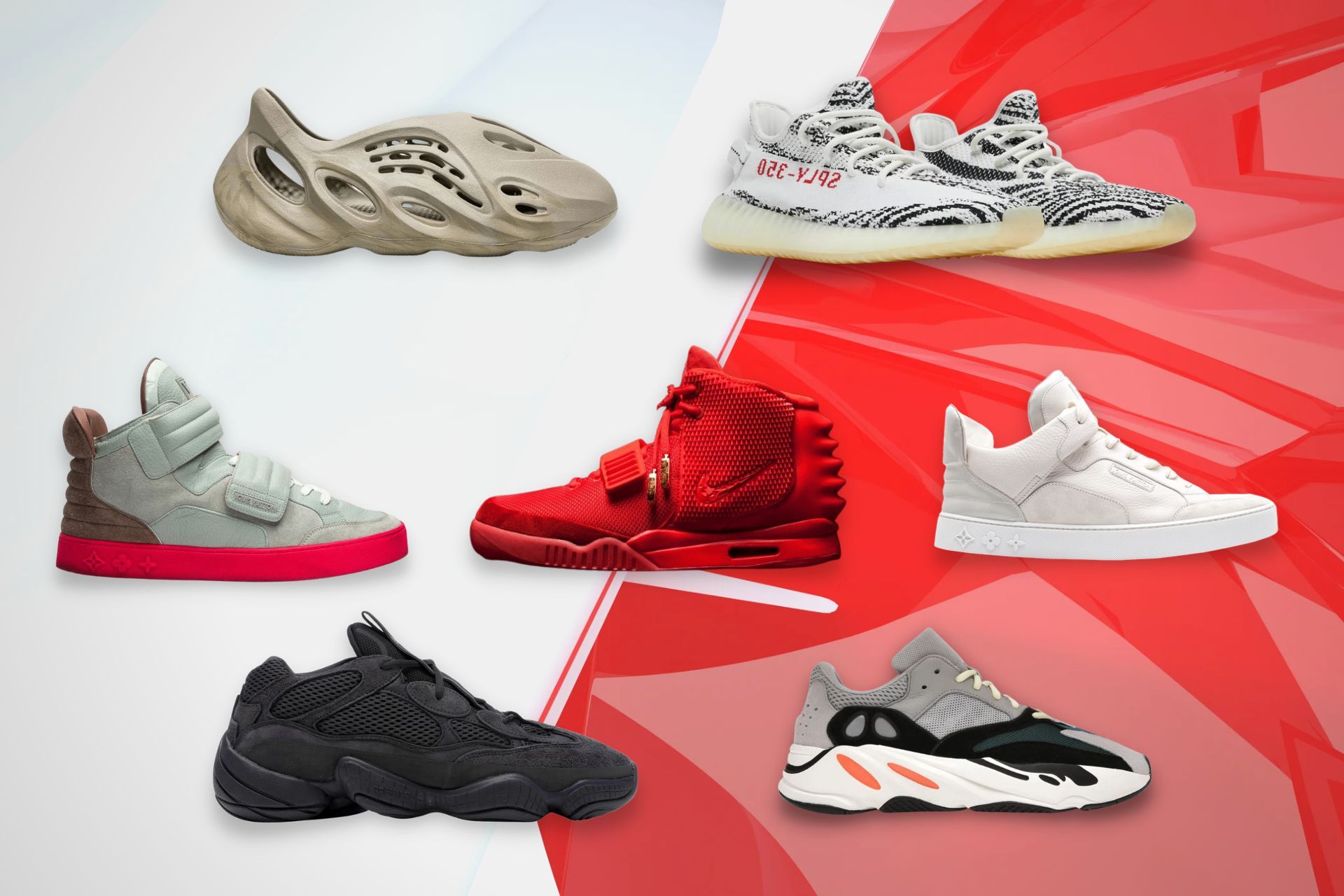 7 Best Kanye West Sneakers
Kanye West has long been associated with cultural shifts between generations, but his style imprints have also taken over the fashion industry, especially the world of sneakers. Ye has created a buzz among sneakerheads thanks to his collaboration with brands like Nike, Reebok, Louis Vuitton and Adidas.
Despite Adidas' decision to halt production of Yeezy sneakers in light of the recent controversy involving the rapper, a few editions of these sneakers remain on sale at a higher price at various stockists and restock retailers.
If you are a Yeezy fan, chances are you are very familiar with these designs and always want to stock them in multiple colors and designs. So here are seven best-selling Kanye West sneakers that continue to take the sneaker world by storm.
---
Louis Vuitton 'Jasper' patchwork and six other head-turning Kanye West sneakers
1) Nike Air Yeezy 2 'October Red'
Most sneakerheads are aware of the significance of the Nike Air Yeezy 2. Kanye West's last collaboration with Nike was the Air Yeezy 2 before he brought his creative flair to Adidas.
The original Air Yeezy 2 Pure Platinum and Solar Red colorways were released in June 2012. On February 9, 2014, Nike announced the availability of "Red October" for sale via a tweet.
The sneakers have a fashionable monochrome scarlet finish. In addition, the color is contrasted by matte black lace tips. The one-of-a-kind design replaces the typical anaconda texture of the side panels with rows upon rows of small triangular studs.
Air Yeezy 2 'Red October' has gained huge popularity for being an important historical sneaker, representing a collaboration between Ye and Nike. These sneakers were originally sold by Nike for $245 and are currently available at select retailers like Solecollector or select Nike stores.
---
2) Kanye West x Louis Vuitton "Jasper" Patchwork
Kanye West's signature Louis Vuitton Jasper silhouette is named after its acclaimed designer, Ibn Jasper. The patchwork and layering of colors added to the popularity of this colorway. The pink sole stands out against the gray and represents a young Kanye's sense of style. The interior is made of high-quality leather, which represents Louis Vuitton's signature design technique.
The laces have a tassel arrangement with gold locks on the edges for aesthetic appeal. The heel has the classic Louis Vuitton monogram. The 'Jasper Patchwork' was released on July 1, 2009, at $1140. It is available at some exclusive restock retailers like Stockx at relatively higher prices, considering its limited edition.
---
3) Adidas Yeezy 500 'Black Utility'
The Adidas Yeezy 500 'Utility Black' was the third Yeezy 500 released in July 2018, at $300. Although it features the same construction as the previous Yeezy 500s, this sneaker stands out from other Ye sneakers with its conventional colorway. Yeezy is known for its unique colorways, and this Yeezy 500 in Triple Black stands out among the many quirky Yeezy colorways.
Kanye West's Yeezy 500 'Utility black' was released for the second time on November 30, 2020 and is now available for the third time in October 2022, on various retailer sites at various price points.
---
4) Adidas YEEZY BOOST 350 V2 'Zebra'
The Adidas Yeezy Boost 350 V2 "Zebra" is one of the most popular colorways in Kanye West's Yeezy line. The sneaker is named Zebra for the white and black knit. From the toe box to the top of the tongue, then from the back of the heel to the sole of the sneaker, you will get the signature Yeezy stitching in the middle.
The midfoot of the shoe reflects "SPLY-350" text in bright red, and the show's base consists of a cushioned boosted core that provides support and comfort. The Boost 350 V "Zebra" was first released in February 2017, initially at $220, and due to its popularity, it is available at other retail stores and Adidas.
---
5) Adidas Yeezy Foam RNNR 'Stone Sage'
The Yeezy Foam RNNR is one of the most popular sneakers among the rest of the Yeezy lineup for its unique structure and various colorways. This sneaker was originally released on March 11, 2022, at $90.
The solid colorway of this sneaker stands out from other Yeezy Foam RNNR MX colorways and looks more subtle and bold. The Yeezy Foam is made of EVA foam, which adds a subtle touch to the sneaker. In addition, the model is made of seaweed materials, which makes it a durable pair. The model comes without laces and is easy to wear.
The Yeezy Foam RNNR 'Stone Sage' restock release date was April 11, 2022, and it is still available on various restock platforms like Farfetch with varying price tags.
---
6) Adidas Yeezy Boost 700 Wave Runner 'Solid Grey'
The Adidas Yeezy Boost 700 Wave Runner 'Solid Grey', after its initial release in November 2017, gained popularity among sneakerheads for featuring a different design than Kanye had used in previous models like the Yeezy Boost 350.
Contrasting shades of neon green lace to leather with black suede and gray and teal mesh make up the upper of the sneaker. Additionally, the sole of the boot and light orange accents at the base finish off the style.
Due to its somewhat old-school design, this Kanye West shoe has been nicknamed "Dad shoe". The Yeezy Boost 700 Wave Runner 'Solid Grey' was restocked on March 10, 2018, following its huge success with sneaker lovers who preferred thicker shoes.
The Adidas Yeezy Boost 700 Wave Runner 'Solid Grey' is available at Affiliate Retailer Marketplaces and Amazon at prices ranging from $380 to $590.
---
7) Kanye West x Louis Vuitton Don 'Cream'
This Louis Vuitton Don sneaker design strikes an ideal balance of high-quality leather and premium suede. Subtle creamy tones on the upper and shiny leather on the heels give the sneakers a more distinctive look.
For the finishing touch, the midsole of the sneaker is adorned with Louis Vuitton's signature monogram and adorned with additional LV logos on the tip of the tongue.
The sneaker was originally released on January 1, 2009 at LV stores at $870 and is available on select restock platforms such as Ebay and Amazon.
---
These are just a few of Kanye West's sneakers that have helped boost his popularity, especially among sneakerheads.