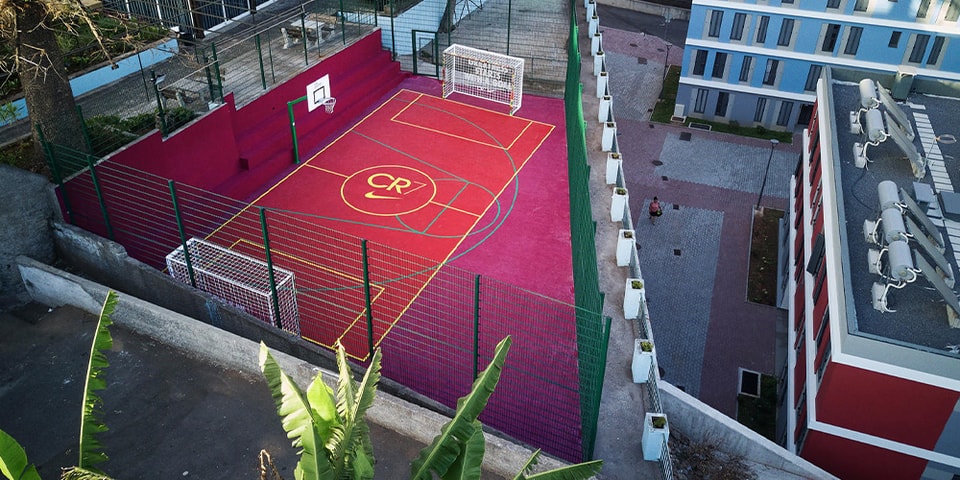 Cristiano Ronaldo Nike Record Pitch Details
Following his remarkable return to Manchester United earlier this week, Cristiano Ronaldo became the top scorer in men's international football after scoring his 110th and 111th in Portugal's 2-1 World Cup qualifying victory over the Republic of 'Ireland.
The 36-year-old – who tied the record with a brace against France in EURO 2020 – surpasses Iranian Ali Daei who scored 109 goals for Iran between 1993 and 2006, and also matches the Sergio Ramos' record for the men's international team in his 180th appearance.
Paying tribute to this achievement, Nike unveiled a refurbished plot in the Funchal area of ​​Madeira, Portugal, the region in which Ronaldo grew up. Designed by artist AkaCorleone, the pitch is adorned with the colors of the country's national team, alongside unique designs based on the striker's career.
The crossbars for each goal serve as a canvas for a 15-scene timeline of Ronaldo's career, with artwork depicting the moments that saw him reach what he is today. From his early successes at Manchester United and his subsequent big-money transfer to Real Madrid, to his international accolades with Portugal, the pitch has been designed to encourage the next generation of footballers to reach similar heights.
In addition to the pitch, Ronaldo's accomplishments were also honored with a commemorative CR110 shoe. Boasting an all-over multi-color print with a ribbon seam on the heel inspired by the Portuguese flag, the boot is decorated with rich burgundy, gold details and speckled laces. The boot is completed with graphics on the tongue, depicting the date and minute he scored his first international goal in 2004.
In related news, the 1992 Nike Air Huarache LE "Toadstool" is set for a comeback.