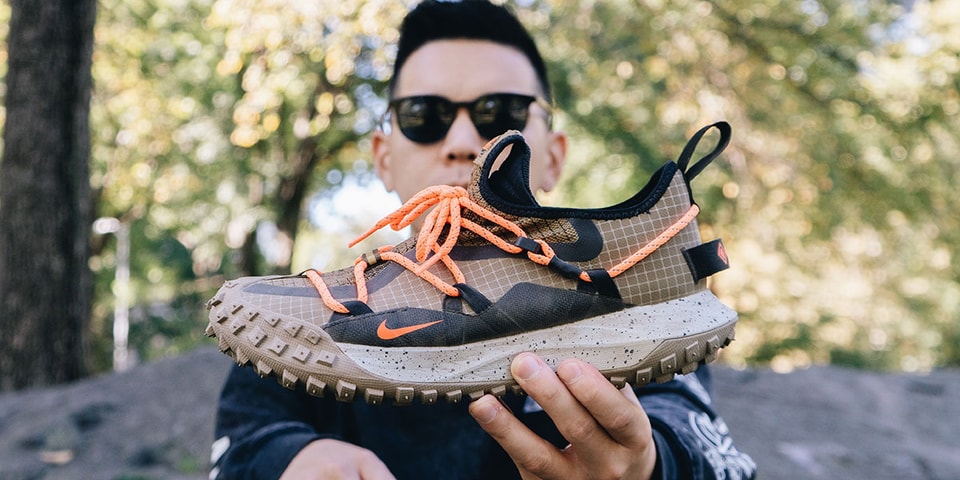 Danny Jung ACG Daily Nike ACG Mountain Fly Sole Mates
Formerly known as Nike Hiking, Nike ACG was officially introduced in 1989 and has since been acclaimed for outdoor enthusiasts and gorpcore fashion enthusiasts. Footwear is a huge part of the line's success, and one of its most popular modern silhouettes is the ACG Mountain Fly Low. Designed by Nathan Van Hook (who is also responsible for the legendary Air Yeezy 2), the weatherproof sneaker is an offering that Danny Jung, creator of the ACG Daily IG account and the latest Hypebeast Sole Mates guest — believes he embodies his personal style to perfection.
Whether Jung is hiking in the Beacon Mountains or the streets of New York, the silhouette's GORE-TEX uppers, plush cushioning and sleek shape all work in harmony to elevate his everyday lifestyle. Hypebeast had the chance to connect with Jung to discuss his love for the ACG Mountain Fly Low, the sneaker culture in his hometown of Philadelphia, how his account celebrates the hardcore ACG fan community and more.
What made you want sneakers?
My love of sneakers started with sports. Growing up in Philadelphia, I loved the 76ers and the Eagles. I credit my dad: he always had sports on TV and I was drawn to the sneaker culture that surrounded the sport.
Can you remember the specific silhouettes you were growing into?
I remember loving Vince Carter's Nike Shox VC III, [adidas] McGrady's, Michael Vick and LeBrons' shoes in the late 2000s. I was also a skateboarder, so I also remember wearing DC Shoes, Osiris and Etnies.
When did collecting start to get more serious for you?
Growing up, my parents really only let me buy one pair of shoes for the whole school year. It wasn't until I got to college and started working in a sneaker store that I had enough money to start collecting more.
"Philly is definitely an underrated city in terms of fashion because we tend to always be in the shadow of New York. I like it though, because we've always had that underdog mentality.
Can you describe what the sneaker culture was like in Philadelphia?
Philly is definitely an underrated city in terms of fashion because we tend to always be in the shadow of New York. I like it though, because we've always had that underdog mentality. The culture there is definitely strong. We have key stores like Lapstone and Hammer and atmos [formerly UBIQ]. Allen Iverson was big when I came along in the early 2000s, so you would have seen a lot of people rocking Reebok Q&As back then.
What sparked your love for ACG in the first place?
I would love to be an OG ACG chef. I admit to people that I came a little late in the game around 2017. I started buying a lot of pieces because the colors of clothes and shoes appealed to me. Fashion has always been a big part of my life and I've always loved wearing flashy sneakers and flashy tees – pieces that pop. Seeing the brightness of the pieces and the creativity behind their design helped me fall in love with the ACG line from a fashion perspective first and a functional perspective later.
What are your favorite ACG pieces?
The jackets are always my favorite because they are so packable and lightweight and they come in crazy colors. They bring out my style and I love how I can literally wear them in all conditions, rain or shine.
"That's the amazing thing about ACG: you can just wear the sneakers anywhere, whether you're hiking in the mountains or in the city.
You have chosen the Nike ACG Mountain Fly Low for your Sole Mates function. What do you like about this silhouette?
I feel like I could take this sneaker anywhere. There are so many stories attached to it. For example, I brought the orange on my hike to Mount Rainier in Seattle and also wore it today in New York. That's what's amazing about ACG: you can just wear the sneakers anywhere, whether you're hiking in the mountains or in the city. The shoe resonates with me so much because it accompanies me almost every day. I like the comfort and responsiveness.
Do you have any favorite colors?
I love the HAVEN collaboration because it's subtle, mostly black, and goes with just about anything. I love this orange pair I brought with me, and Nike also recently did a white and black "Oreo" rendition that I appreciate.
If you had the opportunity to create your own colorway of this model, what would it look like?
I don't know if you've seen it, but Team USA recently received an exclusive colorway. It was pretty much all gray and featured a Team USA logo on the tongue. I would love to recreate a close version of this pair as I loved their monochromatic and minimal look.
How did ACG Daily get started?
This first came to my mind in September 2019. I'm a huge sneaker lover and noticed that when you search for sneakers on social media there were a bunch of pages but there There really wasn't anything on Instagram that was dedicated to studying CAG. – there was also no active community. Since I fell in love with ACG a few years ago, I decided to start the account as an album of my favorite ACG songs – whether it's someone else's photos or my own – and I I just started posting two to three times a day until we exploded. We just hit 126,000 subscribers last week.
Wow, congratulations!
Thanks dude. It's crazy how it started as a personal album and now people all over the world are buying into the account's message by sharing their love for ACG and the outdoors.
Is there a certain criteria you look for in terms of content when posting to the account?
In the beginning, it was always about high quality images, but recently it has shifted more towards people who rally around ACG. There are more opportunities for people to simply share their passion and love even if the photos are taken on their iPhones. The ACG Daily community travels to many different and cool places around the world with ACG products, so I love highlighting their journeys.
How has your professional relationship with Nike evolved since the account was created?
I had the pleasure of visiting Nike World Headquarters over the summer to tour the campus and meet the ACG design team. They showed me doping stuff they have in the works.
I gained so many friends and relationships both inside and outside the brand. We started organizing community rides last summer, which gave me the opportunity to meet some of my supporters from across the country. It's been a great experience so far – it's crazy how our love for products can create this community, especially after COVID when we've been locked down for so long.
Why are sneakers and their stories important to you?
I think sneakers ultimately reflect what you love, whether it's sports, the outdoors, or fashion. Growing up I always loved watching athletes, hiking and being outdoors, and every time I put on a pair of sneakers it brings me back to those times. Shoes like Mountain Flys or even basketball sneakers and just knowing that I wore them in Oregon, on a road trip I did with my wife or stood in line for them , there are so many stories. The whole sneaker experience is fun, frustrating as it is at times.