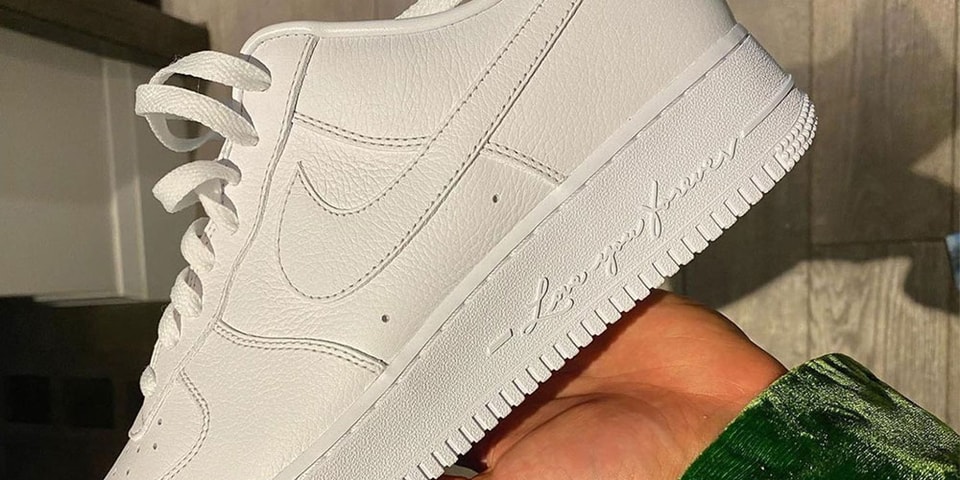 Drake's Nike Air Force 1 "Certified Lover Boy" Collab Reportedly Canceled
In July 2021, images from Drake's Nike The Air Force 1 "Certified Lover Boy" collaboration has surfaced online, giving fans a taste of what to expect for the impending drop. However, since the reveal of the shoe, which was gifted to the Toronto rapper's family and friends, neither Nike nor Drake have released additional details regarding the shoe's expected release date.
The shoe, at a glance, appears to be a regular pair of Nike Air Force 1 Low in Crisp White. However, it is the details that set it apart from other models or silhouettes. Drake's take on the classic shoe features a slight construction tweak, including premium leather construction and the usual "Air" branding swapped for "Love You Forever" on the midsole and heart-shaped textures on the front of the AF1.
Despite initial rumors of the shoe's slated release in 2022, rumors have swirled that Drake's Nike Air Force 1 "Certified Lover Boy" is canceled due to intricate design and difficult manufacturing. However, an industry insider Brendan Dunne seems to have addressed the issue by stating in a Tweet: "Some rumors are circulating this week that the Drake Air Force 1s have been cancelled. According to a source at Nike, this is not the case and a release is still forthcoming.
At the moment, it is still unknown whether or not the shoe will be released in 2022 or if ever. Neither Drake nor Nike have released an official statement on the collaboration. Fans may have to hold on a bit longer before they can potentially bring home the highly sought-after pair.
In other footwear news, the Nike Air Max 95 gets a facelift.