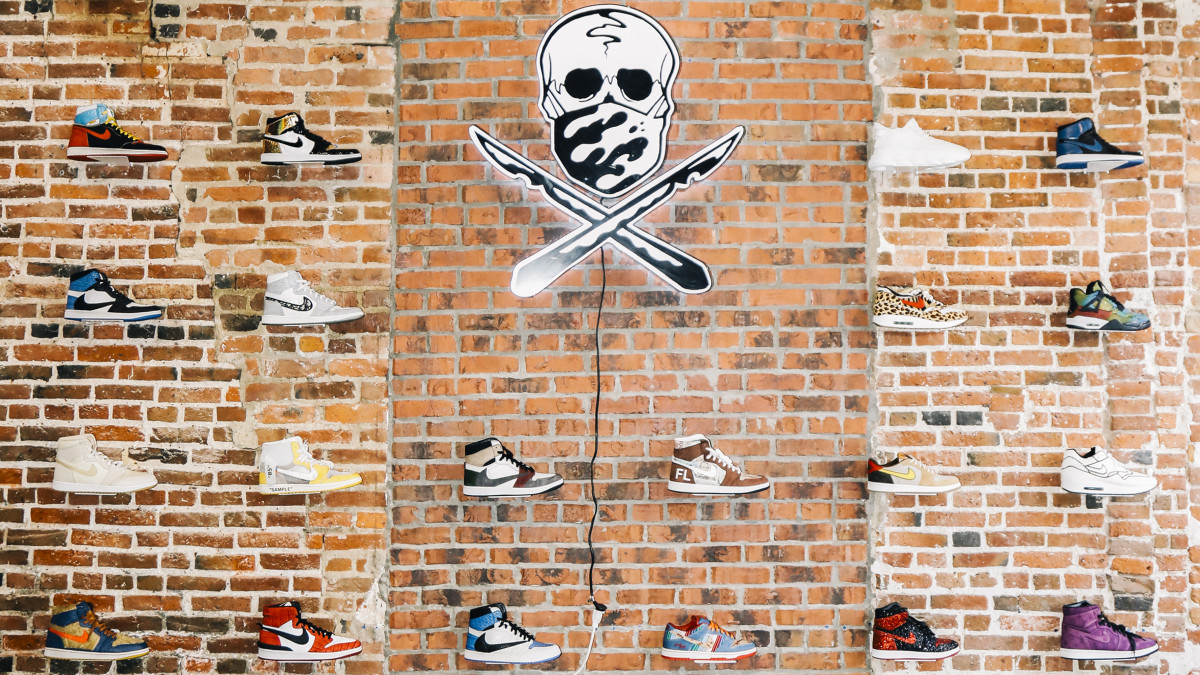 Shoe Surgeon Custom Sneaker School teaches students how to make shoes in New York
If you're like me, your shoe rotation is influenced to some degree by the shoes you see on social media, and your next pickup often aligns with Nike's release schedule – and you're definitely copying them from SNKRS app StockX. Sure you have them, but that giddy feeling you get when you pull out a new pair of sneakers quickly evaporates when you look at your friends' feet and realize that everyone's definition of "cool" has become the same. Maybe your next step after that realization is to do a funky shoelace swap, and maybe that's flamboyant enough to bring that feeling back for a while, but what if you had the chance to create your own pair of shoes?
Not like a custom pair from Nike By You. I'm talking about making a sneaker entirely yours. Where you'll learn how to construct the entire shoe using handpicked materials, colors and textures, while sparing no detail, down to that final sidewall point which is hidden under the insole .
In December, I attended the Shoe Surgeon Academy's Air Jordan 1 Decon/Recon course to create my own custom pair. Dominic Ciambrone, better known as The Shoe Surgeon, and his team of creatives launched the Surgeon Academy in 2017 from their decades of combined industry experience to teach people like you and me how to design, develop, deconstruct and reconstruct a sneaker. The operation's mantra is "never stop creating".
The environment and the energy that the Shoe Surgeon and his team are able to create are special. As soon as you step into their midtown Manhattan location, your attention is immediately captured by the Ciambrone designs lining the brick walls. Ben & Jerry's Air Jordan 1s, Grinch Nike Dunks, Air Jordan 1 Off-White Canary Yellow Lux, the list goes on. My mind couldn't help but start racing, running through the colorways, concepts, and inspirations I tried to draw from as I began to mentally sketch out my design.
This process becomes more tangible as you head to the second floor, dedicated entirely to the Academy, where shelves of high-end leathers, yarns and laces surround your own personal workspace equipped with sewing machines and shoemaking tools. Learning a trade from someone who is considered the best person in their field isn't an opportunity that comes along often, but it's Ciambrone's goal for his students at Surgeon Academy.
The whole experience, like the end product, is highly personalized and personal. The instructor to student ratio was nearly 1:1, allowing each student to navigate smoothly through the ups and downs that come with learning something as complicated as shoemaking. During the four-day training, they taught us how to remove the sole from an old Jordan, lay out parts for our new shoe, sew them together, form the shoe (the process of pulling the upper over a mold, called a last, where the shoe begins to take shape), and everything in between. All of the technical skills were fun and rewarding to learn, but my favorite part was using those techniques to create a shoe that told a story through its colourway, colors and name.
It really came to life on the final day when all of the students pulled off their final designs from the final and shared the story and inspiration for their custom pair of Air Jordan 1s. The stories I heard were extremely creative and added a whole new dimension to what I thought being a sneakerhead meant. A student had just left his job in finance and this class meant the start of the second chapter of his life for him where he pledged to pursue his creative interests and put himself first. My shoe didn't have such a deep meaning behind it, but it was inspired by one of my favorite desserts, Neapolitan ice cream. Chocolate, vanilla and strawberry on the upper, with whipped cream laces and a cherry on top, similar to the Stüssy x Nike SB Dunk Low. Ultimately, the ability to create something entirely your own and tell your own story really is the ultimate flex.
While this particular course focused on deconstructing and rebuilding an Air Jordan 1, the Surgeon Academy offers in-person and distance learning courses on deconstructing and rebuilding other staples like Dunks, Yeezys 700 and the Air Max. The school is also preparing new customization workshops where you bring your own pair of shoes and choose from different paints, laces and leathers to bring your wildest ideas to life with the help of the surgeon's team.
One of their most unique offerings is the Design 101 course. This class is truly a behind-the-scenes look into the sneaker industry that provides marketable skills for those looking to break into the fashion industry or trainers. The class goes through the design process from inspiration to conceptualization and everything in between. While most of their footprint is in Los Angeles, their South Street Seaport location is the hub of the Shoe Surgeon on the East Coast.
My experience in the Decon/Recon class at Surgeon Academy was eye-opening to say the least. I've never given much thought to what goes into making a sneaker, but over the past few weeks I can't help but stare a little longer when someone is standing next to me with a nice pair of shoes, mentally tearing apart the seams and trying to figure out how it was built. Whether or not this becomes a more permanent hobby is up in the air, but I can say with certainty that my perspective on which sneakers are cool and what belongs in my rotation has totally changed.