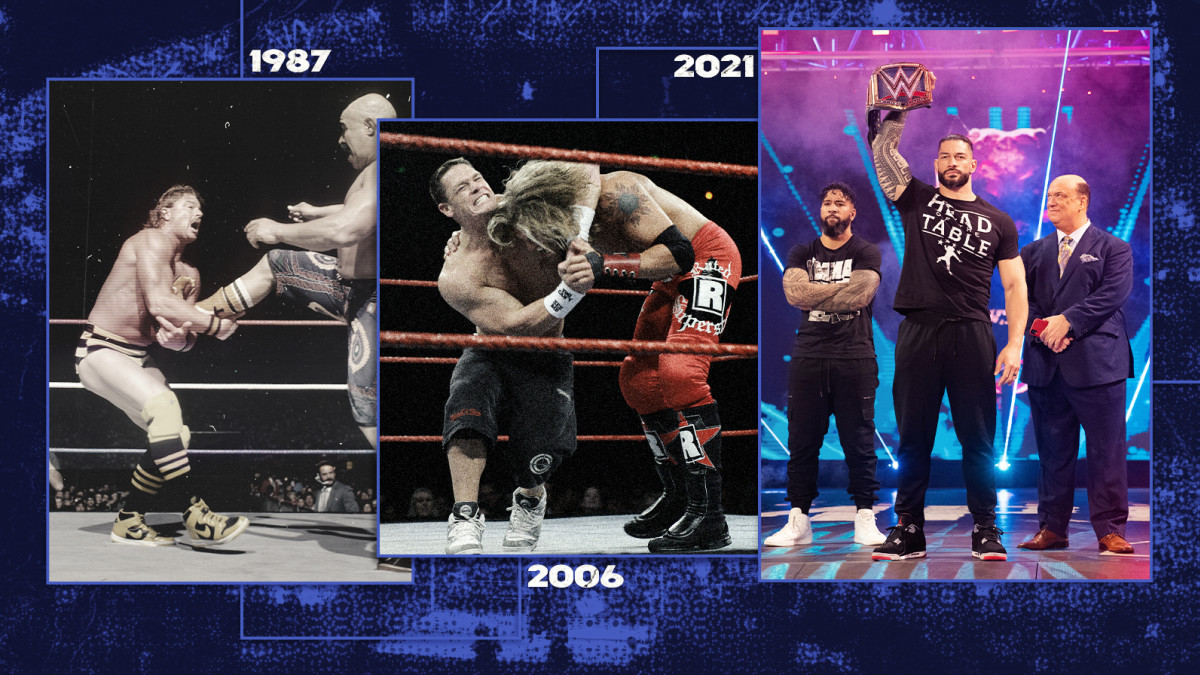 Sneakers in pro wrestling: John Cena, Roman Reigns and more
A well-done professional wrestler's entrance is simply captivating. Stone Cold's broken glass. Gong of the undertaker. The pyro fires as Shawn Michaels drops to his knees after dancing down the entrance ramp. Each provides an instant shot of adrenaline that fans can't take their eyes off of. Upbeat music and pyro are still important these days, but another element of the entrance has become equally important for some superstars in recent years. What pair of sneakers are they wearing tonight?
Over the past decade, sneakers have continued to grow in popularity within professional wrestling. Wrestlers are no longer content to walk down the ramp in traditional boots. Now, more and more superstars choose to add a new layer to their persona by wearing rare sneakers. In some cases, it is a classic Air Jordan, like the 4 "Bred". In others, wrestlers like Kofi Kingston donned custom pairs of Mache for the biggest moments of their careers. In 2022, some people are even carrying unique hybrids. Liv Morgan's knee-high Air Jordan 1 shoes by Mache are a perfect example.
There's no denying that sneakers are bigger in pro wrestling right now than they've ever been before. But while the Young Bucks claim to have started the whole sneaker trend in wrestling, that doesn't mean it's all new. We know you probably remember John Cena wearing Reebok pumps throughout the 2000s. But how about Jim Ross interviewing Stone Cold in Air Jordan 12s or Killer Bees wearing "Iowa" Dunk Highs in 1987 ?
Ahead of the Royal Rumble this weekend, which is sure to feature its fair share of memorable sneakers, we decided to take a closer look at the history of sneakers in pro wrestling.