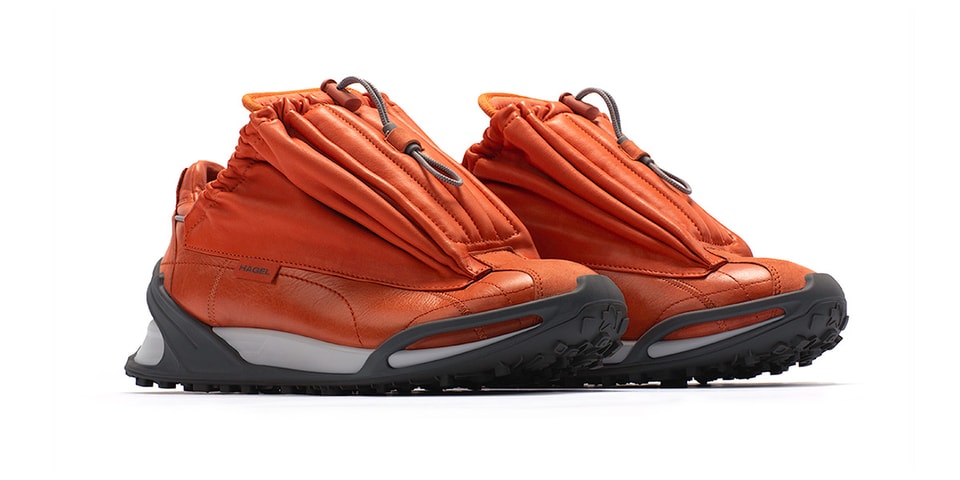 Studio Hagel Shroud Mango Release Date
If there's any shoe designer right now who isn't afraid to experiment, it's Studio Hagel's Mathieu Hagelaar. He's added weight to his name by showcasing his exploratory design language on shoe collaborations with ECCO and custom styles on the Air Force 1, and now he's discovered his new Hagel Shroud model which is inspired by a MakersMonday 2018 experience and a car-influenced Nike Cortez. hoods and shrouds.
As you can tell from its moniker, the main component of the new silhouette is the padded Ecco leather shroud that starts at the lower throat and extends to the ankles. Other fabrics present on the base include more leathers that make up the sidewalls in addition to the suede overlays that attach to the toes and heels. Branding sits on the midfoot in the form of a banner reading 'HAGEL' in black type. Beneath the shroud is a breathable mesh bootie that also comes with a toggle lacing system for lockdown purposes. The midsoles are completely covered in a lighter gray hue and are held in place by a black cage that hugs the shoes at the back and front and connects to its hiker-friendly outsoles.
In an effort to highlight the importance of HAGEL's willingness to experiment, the label on the left foot displays the bonnet of the car that inspired the shoe, while the right side shows how HAGEL transformed it into design. final. "The design process is an experience, a continuous exploration of ideas," Hagelaar says of the design. "The Shroud is both the result of this process and the start of a new chain of thoughts."
This limited-edition "Mango" colorway will come packaged in a "puffy bag" that protects shoes and can be used as a belt bag. The retail price is set at €450 (around $509), and it will drop via HAGEL come on February 21.
In case you missed it, Studio Hagel gave their version of Dellow and Varden from the Stepney Workers Club last summer.